Testimonials
Our wonderful tenants are the reason we're in business. Here are some of the great things they've said about us.
We'll do everything we can to make sure you're a satisfied tenant, too!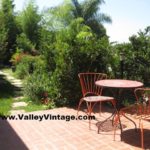 From Ken and Alexis Muse:
We have thoroughly enjoyed our time living here in Burbank, and we cannot thank you enough for your kindness, responsiveness, and generosity toward us these past two years. In the time we have spent searching for our new home, we haven't found any landlords who have been as personal and caring as you have been for us. We truly appreciate all you have done to help us make a home here on Chandler Blvd.
From Laura Thomas:
My last 3 years living at the Frederic/Chandler Vintage Apartments, has been the best experience I have had as a tenant. Your response to the property needs has been impeccable. Everything from tree trimming to laundry machine repairs and individual unit needs you have consistently provided a wonderful, safe, comfortable and peaceful atmosphere, in which to live. The units are very unique and the courtyard and fruit trees are very serene and peaceful. I am leaving the area (out of Los Angeles) and want you to know how hard it is for me to leave my unit. I would like to add, this particular property has been a wonderful place for my dogs to call home! As the LA area becomes more and more in demand for rental properties, you and your management style should be an example of how property should be maintained and managed. I will miss you and my Frederic/Chandler neighbors, this has been a wonderful place to call home.

My best to you always!
Laura

From Dave Saltman:
I have lived at the Cordova View property, 250 1/2 N. Cordova St., in Burbank, since fall, 2005. Rennie was always unfailingly courteous and timely in responding to my maintenance requests. These ranged from very small requests, such as replacing window cranks, or wall-outlet to repair, to larger issues, regarding plumbing. He also upgraded the unit on a number of occasions, including replacing and installing the smoke detectors, and dimmer switches, to make life more pleasant, and safer, while living in the unit. He also allowed me to create a small container garden outside the unit, in the corner of the property – something which he could have easily disallowed. I have sent a number of apartment-hunters to Rennie, because I believe that he is a landlord who is concerned about his tenant's welfare, and the upkeep of his buildings. I would not hesitate to rent another unit from Rennie, if the circumstances were right. Additionally, I have had a number of opportunities to rent less expensive units in the same area, and have chosen to stay in my unit for the time being, in part because of the quality of building stewardship that Rennie and his partners have evidenced as landlords.

Thank you,
Dave

From Keely Hasapoglou:
Rennie Gabriel was the property manager at my apartment on 10636 Landale St for approximately three years. In that time, Rennie was extremely responsive and offered up to 24 hour accessibility on various occasions. In my time there, Rennie aggressively pursued neighbor noise violations which compromised the well-being of the entire building. He showed great commitment to helping his tenants. On a daily basis, Rennie was available by phone for anything and everything ranging from maintenance to unrelated questions about area rules and regulations. One instance of dependability that comes to mind is when Rennie helped me scrape melted plastic off a heating grate on a Sunday, just before the holidays. Requests were consistently fulfilled in a timely manner and with great respect to accommodating my schedule. On a personal level, Rennie was always extremely respectful of my home and very diligent about keeping my dogs safe when entering the apartment. He was a lovely property manager, so much so that when the properties were divided and he left, we left shortly thereafter, as we were not getting the same level of care which he had provided.

Sincerely,

Keely Hasapoglou
From Kyle and Ronni Peck:
My name is Kyle Peck, and my wife is Ronni Peck. We were tenants in one of Mr. Rennie Gabriel's buildings from 2007-2009. We were in one of his remodeled duplex-style homes in Burbank, California. We first met Rennie when my wife and I were looking to move into a little bigger and nicer place then we were living in. The place we ended up moving in to was still being renovated, so we got to see a little before and then after. After getting to know Rennie, and taking his word, we decided to sign a lease on the apartment while it was still in renovation mode. I have to tell you, when the place was finished and we saw it, we were very happy. Rennie spent a lot of time and money and invested a lot of care into our apartment.

Having said all this, there were not a lot of problems that we encountered during the two years we were living there. But when there were, it was minor and Rennie himself, or an employee, was at our place later that same day or the following morning. We had a problem with the shower drain, and he had a plumber to us quickly; the problem was fixed and we had no problems going forward. Another instance was with our garbage disposal. It had broken down. Rennie came and looked at it, then purchased a whole new disposal and installed it.

The day eventually came when we needed a two-bedroom. Of course, we inquired with Rennie first to see what he had available because we loved having him as a landlord. Unfortunately, he didn't have anything available so we ended up having to break our ties, but we have kept in touch. We even checked in with him about a year ago to see if he had something bigger available. He didn't, but I assure you we will try again in the future.

Best,
Kyle Peck
Ronni Peck
From Archie LeGrone:
Concerning my tenure as a tenant at 11508 Moorpark Street, Apt A, Studio City, CA, with Rennie Gabriel as the landlord, I have nothing but good things to impart. Whenever a problem came up at the dwelling, Rennie dealt with it in a reasonable and efficient manner.

When my air conditioning unit gave out, Rennie replaced it as requested. When I was in the process of changing employers and experienced a gap in pay, Rennie was understanding and didn't charge me a penalty fee for paying the rent after it was due. When vandalism with mailboxes and theft of mail and car break-ins became a problem, Rennie installed a security camera in the lobby.

Rennie and his staff were as polite and understanding as they were professional. Rennie and I often had pleasant conversations and on occasion recommended reading material to each other. Overall, he seemed as much a friend as he did a landlord.

Sincerely,
Archie LeGrone
From John Klemack:
I lived in a rental unit under Rennie Gabriel/Valley Vintage for nearly two years in Burbank, California. To this day, it has been the best landlord-tenant experience I have ever had.

My needs at 250 N. Cordova Street never went unanswered – in fact, they were addressed within 24 hours. Twice I needed a drain cleared in the bathroom – to the point I could not use the shower – and Rennie made arrangements the SAME DAY to fix it. The management style and abilities, I feel, helped make my stay enjoyable and certainly well-lived.

When a tenant in the building moved out, I was able to make arrangements with Rennie, for an additional fee, to use a garage on-site for some of my belongings that had finally been transported to Burbank from my home in Utah. And when I moved out of the apartment, Rennie continued to help me and guide me on a personal level – first, for a place to move my belongings to another storage unit and then with advice as I began to act as landlord for my own rental unit back in Utah.

I will never forget my first meeting with Rennie, after the rental papers were signed. Rennie gifted me a book he wrote that he said he gave to all his tenants – a book about finances. He said most of his tenants leave his rentals because they have purchased a home for themselves. That's a pretty good record – and the book was an easy read, one that certainly to this day has helped shape the way I handle my own finances.

I have kept in touch with Rennie, selfishly, for his knowledge on the rental market in California but also because of my wonderful experience as his tenant. I have even suggested his properties to friends and co-workers looking for a comfortable, affordable and well-managed place of their own.

I appreciate your taking the time to read this and I hope you have found it useful.

Sincerely,
John Klemack
From Nicole Johns:
My name is Nicole Johns, a former tenant of Rennie Gabriel. I lived at 10907 Moorpark St. Toluca Lake, CA in early 2006. During the time that Mr. Gabriel was my landlord, he was always prompt to respond to emergencies and respectful to my roommate and I.

Upon moving in, Mr. Gabriel had gone through the lease in great detail, page by page, followed by a walk through of the unit. During the walk through, I mentioned that the bedroom ceiling fan needed some maintenance. He took a few minutes to look at it and decided to replace it. The transition into Mr. Gabriel's unit was easy and exciting, the unit was beautiful and he was very accommodating. The few times we had an issue with our heater, it was resolved the same day. We had a slow drain in the shower and Mr. Gabriel had it snaked the day after contacting him.

There was a time when my roommate and I were having a hard time living together, Mr. Gabriel actually talked to us about our relationship and helped calm the situation! My roommate eventually moved out, into a one bedroom unit, 2 doors down. She was so happy with the property (and Mr. Gabriel) that she stayed in the building! A new roommate moved in seamlessly. Mr. Gabriel made the appropriate changes to the lease conducted a detailed walk-through with the new roommate, addressing any issues she might have had.

Sadly, Mr. Gabriel sold his property while was I was still living in the unit. After the property was sold, and I had a new landlord, I still kept in contact with Mr. Gabriel. I have used him as a valuable resource when it comes to information about property managing. (My boyfriend rented out his condo with help from Mr. Gabriel's assistance and consulting)

I have personally never had an issue with Mr. Gabriel. As a former tenant of his, I can tell you that he is a responsible and attentive landlord with great pride in his property. He is extremely fair and truly accounts for his tenant's comfort while they are occupy his properties.

Thank You For Your Time,
Nicole Johns
From Susu Hauser:
I lived at Rennie Gabriel's Cordova St. property for over 2 years. In that time, I came to discover what it means to be a great landlord. I have never had minor/major apartment issues answered so promptly and without hesitation. Rennie was always available by cell phone and at my apartment within the hour to fix any problem. He was and still is the most proactive, helpful, and handy landlord I have ever had the pleasure of renting from. Had I not moved out of the area, I would still be happily renting from him.

Sincerely,
Susu Hauser
From Glenn Esser:
I wanted to personally thank you for being a landlord that cares about your tenants.

When I first met you to look at the property, you were working on making all the improvements to the apartment and how 'connected' you were to you're existing tenants, referring to the way the tenants appreciated you.

And when I did move into you're building, I had just started my first job out of college and was very excited to move into such a nice apartment. It was clean, safe, and the other tenants that were in the building were friendly. During the time that I was renting, I would often see you on the property and I recall how pleasant you were not only to me, but to all your tenants. You were always nice to everyone on the property and tenants would often waive to you. I also had that same experience, as I felt like you knew a bit more about me because you cared to ask. I recall having good conversations with you about property management, my college experience and your classic truck.

On a couple of occasions, if I had a question or request I would call your office. If you were unavailable and at the property, you would always return my call the same day to check in with me. Specifically, I had asked you if I could include a washer into my apartment, and you were open to the idea. Another example is when you were choosing colors for my apartment floor and asked me what color I would prefer – and you went with my choice. I appreciate that you cared about me as a tenant, as your efforts went above and beyond.

Again, thank you for being a landlord that I remember as a fair and trusting person. I look forward to keeping in touch with you and will certainly refer your property.

Kind regards,
Glenn Esser
From Kathy Suszko:
I have lived at my apartment residence for the past 10 years, where Rennie Gabriel has overseen the property as landlord. His response to residential issues was always prompt and complete. I have had repairs and interaction that ranged from clearing drains, outside lighting issues, paint up-keep and disruptive noise from unruly neighboring buildings. The landlord responsibilities from Mr. Gabriel had been professional and up to standard.

Sincerely,
Kathy Suszko